Raising Standards in American Healthcare
Best People, Best Practices, Best Results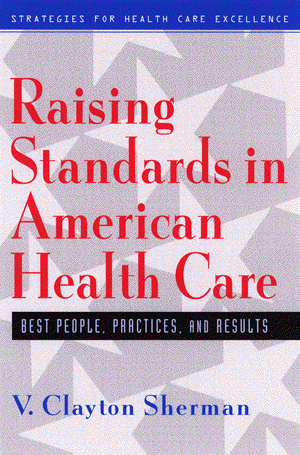 This book's good news is that healthcare's problems can be overcome by a radically new management approach. The concepts of Operational Excellence and Strategic Standardization are already producing best-in-class performance—a way out of the crisis is at hand. The approach that has brought national award-winning Customer Satisfaction ratings and Top 100 hospital status to numerous healthcare organizations, is now available in both a step-by-step book and action seminar for organizations ready to make change.
Finally it's being said openly: The problems of American health care stem primarily from an obsolete approach to management that produces poor performance outcomes. Can things be done a lot better? Absolutely! Changed management approaches produce changed organizations. See Book Reviews
---
Book Contents
What You'll Find In
Raising Standards in American Healthcare
Part One: Time for a Change
Moving Healthcare to Higher Ground

1. The Rebirth of Management
2. What Market Strategy Wins Now?

Part Two: Raising the Bar
Redefining American Healthcare Standards

3. Winning With Strategic Standardization
4. Seeking Higher Standards


Part Three: Cutting the Gordian Knot
Common Sense Solutions for Uncommon Performance

5. Moving to McDonaldland
6. Creating a New American Hospital
7. Competing on Knowledge
8. First Feed the Troops
9. Best Practices Make Perfect

Part Four: Climbing the Mountain
Change Managing the Standardization Process

10. Defeating the Limits of Change
11. Transforming Healthcare Organizations
---
What Award Winning Leaders are Saying About
Raising Standards in American Health Care
"Raising Standards ranks among the most challenging, practical business management books I've ever read. Great ideas are only the start...the real benefit comes from getting the book off the shelf and using it as a step-by-step guide for hospital success. Holy Cross Hospital's turnaround would still be just a dream without Clay Sherman's insight into getting our own house in order and gaining the hearts of today's healthcare consumers." —Mark C. Clement, President & CEO, Holy Cross Hospital, Chicago, IL, Global Best Practices Award for Customer Satisfaction
"This book challenged me as it will the entire health care industry. I found myself applauding Dr. Sherman's insightful analyses and practical how-to solutions. Employer coalitions involved in value based purchasing are in a position to exert positive pressure on health providers to raise the standards of management and ultimately the care that patients receive." —Gregg O. Lehman, President and CEO, National Business Coalition on Health
"It's been a decade since I first heard Clay Sherman and invited him to work with us. From that time to our entry into the Top 100 Hospitals list we've been able to make use of his management insights. Now, in his new book, Raising Standards, he is still getting it right down the strike zone. From the first chapter he gives us plenty to work with as we begin our journey. The message remains solid through to its conclusion: our healthcare organizations must be transformed by standardizing best practices. This is a refreshing, even exciting approach to the very foundation of setting new standards for healthcare excellence" —William G. Gonzalez, Former Chief Health System Officer, Spectrum Health, Grand Rapids, MI, multi-year Top 100 Hospitals and Top 100 Integrated Health Care Systems.
"Clay Sherman has once again brought his unique insight and vision to improving hospital and health care system management in meeting today's challenges of delivering quality healh care to better serve patients. Based on the success of his earlier work, Creating the New American Hospital, and how well it was received, his new book is must reading for health care leaders all over America." —Terry Townsend, FACHE, President/CEO, THA-The Association of Texas Hospitals and Health Care Organizations
"Clay Sherman is sending America's health care leadership a tough message and it's on target. As an industry we need to do a better job for our patients, our physicians and our associates, and Clay's book tells us how. A must read for tomorrow's leader." —Richard R. Risk, President and CEO, Advocate Health Care System
"Phenomenal! Clay Sherman delivers a message of hope to an aging dinosaur. His prescription for change is completely rational and firmly balanced. Exciting, visionary and indisputable. Clay Sherman has captured the very heart of the vision needed in health care today. What Tom Peter's In Search of Excellence did for management, this book will do for health care. A must-read for any executive who wants to be on the cutting edge of the new era in health care. —Audie G. Lewis, The Year 2000 Health Care Survival Guide